"Over 700 delegates attended the Platts London Oil Forum which made it our most successful forum to date and proved to be a great start to the events that surround IP Week. If you did attend, I hope you found it informative and gained valuable insights into the topics that are dominating the most dynamic hubs in this region. If you did not get the chance to attend, remember you can still connect with us. On this site you'll find the presentation from the keynote speech, in addition to a range of other resources I think you'll find helpful. I look forward to building on this strong start to the year and wish you a very successful year ahead."
- Dave Ernsberger, Global Editorial Director, Oil
Key Note Presentation on Platts Global Outlook for Oil 2013: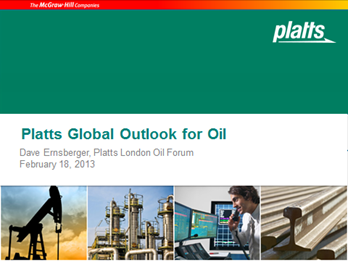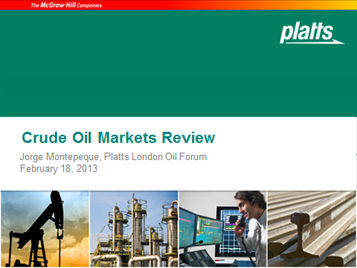 We asked, you answered
Our roving reporter, Maurice Geller – Associate Editorial Director for Europe, Middle East and Africa, was on hand at the London Oil Forum to capture opinions on the topics dominating the oil markets in each of the region's most dynamic hubs.

Find out what some of your peers said about the challenges and opportunities affecting the global energy market in 2013:
The nearly 800 oil industry executives from around the world gathered at the 2013 Platts Oil Forum also joined the conversation by participating in a poll on challenges facing the industry in each region. Click on your region of interest below to see the questions and the polled responses:

Northern Europe & the Atlantic Basin

Mediterranean, North & West Africa

Middle East, CIS and the impact of Asia


Platts Newsletters
Our newsletters are delivered as a PDF each day and give you a full understanding of pricing, supply and demand, as well as the broad range of factors that drive them - without the hours of painstaking research.
Your decision making depends on access to the right information at the right time. Get your free trial today:
Bunkerwire

Confidently buy and sell at market price
Keep track of customer or counterparty activity
Maximise profits by pricing out the best routes
---
European Marketscan

Protect your profits by using benchmark prices in your contracts
Adapt to changes in supply and demand
Ensure optimal refining operations
---
Crude Oil Marketwire

Use the industry benchmark prices to ensure the best contract, term and tender settlements & negotiations
Populate your refining models
Monitor the competition
Platts Oil Methodology Explained
When you're in London, why not book to attend one of our free monthly training sessions at our offices in Canary Wharf? These give you greater understanding of oil benchmarks and how they help improve market transparency.
Tap into our editors' knowledge and have the Platts Price Assessment Methodology Explained
Here you'll find the list of global oil events either being hosted by Platts or where our editors will be available.
Platts Cocktail Reception
17 March 2013 - Fogo de Chao, San Antonio, Texas, USA
View Details
Barrel Talk Lunch - Platts Hospitality Suite
18 March 2013 - Travis Room, 2nd Floor Marriott Riverwalk, San Antonio, Texas, USA
View Details
Platts Rio Oil Forum
9 April 2013 – JW Marriot, Rio, Brazil
View Details
Rockies Oil Forum
16 April 2013 - Grand Hyatt ,Denver, Colorado, USA
View Details
Platts Oil Forum
18 April 2013 – Tokyo, Japan

The 21st Annual Middle East Petroleum & Gas Conference (MPGC)
21 – 23 April 2013, Abu Dhabi, UAE
View Details
The 4th Oil Products Forum Middle East (OPF)
24-25 April 2013, Abu Dhabi, UAE
View Details
Crude Oil Summit - New Supply, New Demand and the New World Order
13-14 May 2013 – London, UK
View Details
For the full list of upcoming events visit www.platts.com/conference